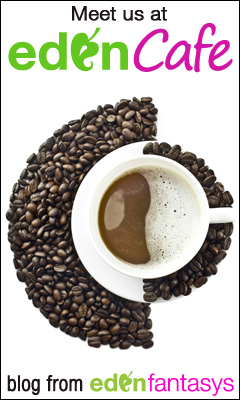 You know whats coming right? Valentine's Day! It is right around the corner! I can't wait! I love Valentine's Day because every year Aaron gets me an amazing bouquet of roses. This year I can get him something extra special, and I can't wait to go shopping! Guess where I'll be shopping? You got it!
EdenFantasys
!
EdenFantasys is hands down, the best place to shop for your Valentine. I'm not into the whole "toy" scene, but if you are then EdenFantasys is the place to shop!
For Aaron, I am planning on getting him the Lelo Massage Candle. He's been writing reviews for EdenFantasys too, and he keeps hinting about wanting it, so I think it will make a great gift for him! I'm also going to include 5 "coupons" for free massages. There is one thing I love, and thats a good back massage,but theres one thing I hate, and thats giving massages, so I know he'll truly appreciate this :) I'll be getting the Vanilla & Creme de Cacao. I read somewhere that men really love vanilla, so I'm sure he'll love it :)
What would you like for Valentine's Day??
If you are still shopping for the perfect gift, then seriously, check out
EdenFantasys
; I'm positive they'll have the perfect gift :)
Disclosure: GiftCard being provided to me free of charge from EdenFantasys!
Opinions expressed are mine, and were not influenced in anyway.