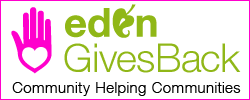 As you all know,
EdenFantasys
is the number one shopping spot for your personal, adult needs. There are thousands and thousands of different products available. That isn't the only great thing about EdenFantasys though.
There are a few extra features on EdenFantasys that are less known about. These features are awesome, and today I want to kindof help explain them to you.
See, EdenFantasys has a EdenPoints Program. I really love this program, because it rewards you for things that your always doing on the site anyway. For instance, I was just visiting the EdenFantasys website, and I decided to do a search for some massage oil. I simply typed "massage oil" in the search bar and hit "Search," and just for that I got 5 points. Now you also get points for doing many other things too. You'll get points for reviewing items,rating items and even for doing things like adding a product to your favorites list. Each point that you get is work 1 cent. And you can turn any amount of points into a gift card amount. Since starting to use the EdenPoints program, I have collected 116 points, which equals $1.16 in a gift card. It's not much, but it's something. And really, you can't complain. You get points for doing things you were going to do anyway.
If you shop at EdenFantasys, I would really recommend also checking out the
EdenPoints Program
. You don't have anything to lose, and you have everything to gain!
Disclosure: Giftcard is being provided to me in exchange for writing this post. All opinions expressed are my own, and were not influenced in anyway.