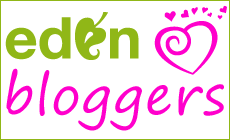 Please only read this post, or click on any links if you are 18+
Yay! It's time for another fun
EdenFantasys
post! :)!
One of my favorite places to shop is definitely EdenFantasys. Their selection is huge, and it's always so fun to look around, because you never know what you'll find.
I was doing some shopping about 2 weeks ago, and I wanted to get my grandpa a few
gag gifts
. My grandma is really silly (as you can probably tell from any pictures you've seen of her) so I know getting her a silly gift, will really make her smile. And actually grandma's birthday is coming up on July 13th, so I plan on giving them to her then :P.
I got her a box of X Rated Fortune Cookies ( I plan on taking them out of the box, and just giving her the cookies, so she won't know until she reads them) I can only imagine her face! LOL I can't wait!
I also got her some "sexy confetti." I thought it would be fun to sprinkle it on the table, and putting it in some balloons.
It's going to be one funny party! My grandma has been really down lately because of grandpa (well.. we all have been) but hopefully in July, this will lighten the mood a little! I can't wait :)
Disclosure: Gift Card is being provided to me free of charge. All opinions expressed are my own, and were not influenced in anyway. Facebook is not involved in anyway.