Hi everyone..
I really had no intentions of making the WOW post tonight.. But the depression is really setting in.. It's so hard to see the empty hospital bed.. knowing he's actually gone.. Gotta stop myself before the tears start pouring again...
I literally have nothing keeping my mind off of what happened.. Which is what brought my to actually write this post.. I thought maybe for a brief moment I could keep my head clear..
In the next day or 2.. I plan on sharing a few personal thoughts with all of you, and letting you all know about grandpas final moments.. I just can't bring myself to talk about it right now. I am really trying to stay strong (Well, I'm acting/pretending to be strong for everyone) but really.. I don't think I'm okay. I keep wanting to call someone, just to spill my guts, but the only people who I have to call are grandpa's friends, and when I tell them anything, they'll start to cry, and then I start to cry again. It's so hard.
I have to get some rest.. So-
On to
Wobble Over Wednesday
..
Thanks for being a part!
Welcome to the 43rd Edition of Wobble Over Wednesday!
Don't know what Wobble Over Wednesday (WOW) is? Well, it's a fun blog hop! Just by simply adding your link below, you can make new friends, and get brand new followers for your blog!
There are no rules for Wobble Over Wednesday
!
Of course, we would like to make Wobble Over Wednesday huge, because; The more people that join in, the more followers your bound to get!
I have a few suggestions of things you can do to help promote Wobble Over Wednesday.
•Blog about it- Every post helps! You can do this really fast, and easy by clicking the Share button at the bottom. Hit Share, then "More+" and then find the Blogger icon :)
•Tweet about it! It only takes about 15 seconds to Tweet! (Just simply click on the Twitter icon underneath the post, before the comments.
•Post it to Facebook! You can also post to Facebook in just a matter of seconds by simply clicking the share button, and then finding the Facebook logo.
You can also share any other way with the Share button :)
•And finally; You can also grab a Wobble Over Wednesday Button for your own, blog, or blog post! You can get the code for a button on the left hand side of my blog- Just scroll down a little ways, and you'll see it :)
Any of those things you do are truly, truly appreciated :)
There is also a little bonus for everyone who joins in for Wobble Over Wednesday. Each week a number is randomly drawn out of the previous weeks participants. If your number is drawn, you will get the #2 spot on the Linky List.
The winner will also receive a FREE week of adspace right near the top left of my blog :)!
Congratulations to last weeks winner! #13
Bee's Knees Reviews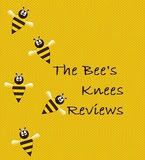 Please feel free to leave a comment after joining in!