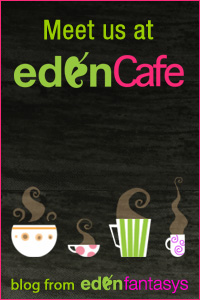 There is so much to do there! I previously told you about the awesome EdenPoints Program, where you search, and rate products for points that you can converge into gift cards. I love that program, and I know a few of you were enjoying it as well.
Well that's only one of the amazing perks you can do on the EdenFantasys website.
I have been browsing around lately, and I stumbled onto the
Affiliate Program
page, and I was so surprised! You can earn a 20% commission just by sharing links, and referring people to your Affiliate Website. The best part is that, with your Affiliate Website, you can also make customize widgets and make everything truly unique to you.
I have really been thinking about signing up! It just seems like a great, easy way to earn some extra income! Even if you just social network with sites like Twitter and Facebook, you can still earn from that! You really have nothing to lose by signing up.

Also, if you get friends to sign up for the Ambassador program, you can even make an additional 3% commission from that. It's great!
Stop by
EdenFantasys
, and check out their amazing perks for yourself. There is a lot to learn, and a lot to see ☺.
Disclosure: Gift Card is being provided as compensation for this post. All opinions expressed are my own, and were not influenced in any way.