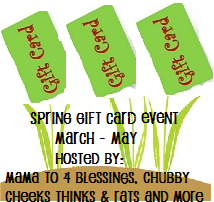 Mama to 4 Blessings,
Chubby Cheeks Thinks
and
Rats and More
are teaming up to bring you The Spring Gift Card Event! $3.00 gives ONE entry on Rafflecopter for any of your social media choice (EXCEPT GOOGLE +) See their policies.
This is round 2 out of 3 of The Spring Gift Card Event, last month was a huge success, with over 30,000 entries and leaving many with 500+ more Facebook followers as well as other social media's boosted!
Event Details
~ Round 2 of The Spring Gift Card event will take place April 16th 12:01 AM EST - April 23rd 11:59 PM EST.
~ We do not require you to post or add the event button to your blog but we encourage you to do so - the more sign ups, the more entries!
~ Cost to sign up will be $3.00 for your any social media of your choice (Facebook, Twiter, Pinterst, Google Friends Connect, etc (not Google + please see their policies) and $2.00 for a second link. The total amount collected will be contributed to the gift card giveaway.
~ Once the event ends we will announce the winner on our Facebook Group as well as e-mailing the winner privately.
~ Participants except hostesses are also able to enter this giveaway.
~ Please complete the following form below to participate.
~ Please join my Bloggin' Social Facebook Group @ Bloggin' Social Media Chat & Blog Events for updates and information about these monthly events (including this event)
Sign Up
Sign ups will close on April 12th. To sign up, please fill out this form and send your $3.00 (or $5.00 payment depending on how many social media links you choose) payment via Paypal to psalms23and24 at yahoo dot com. Send (PLEASE MAKE SURE YOU SEND AS A GIFT or I will have to issue you a refund, I want to avoid fees).
Any questions please feel free to click on the contact me tab at the top of my blog and let me know your question, I will be happy to e-mail you back.
Thank you!
Mama to 4 Blessings is participating in several other blog events, see my right side bar for these event buttons. Events in April for Earth Day
Honoring the Earth Giveaway Hop,
A Tisket a Tasket, Blogmania and more! Check it out! So many choices to choose from!
During the last event we got so many entries! And I personally gained over 400 likes for my Facebook page.. So I cannot wait for the next event! :)