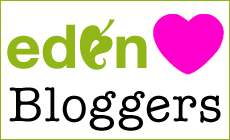 Thanks to EdenFantasys for providing me with a gift certificate in exchange for wri

ting this post.
If you haven't heard of
EdenFantasys
, I would probably say I'm surprised. EdenFantasys is a huge online retailer of adult products, as well as lingerie, bath and body products, and so much more!
I've been a fan for a couple years now, and I am always checking out there newest selection of stuff. I get there emails a few times a week, so I can always stay updated on whats new, whats on sale, and what current deals they have going on.
I got an email on the 17th, and was so excited, because I had been saving up gift cards to use on a great sale like this! Up until 2pm on the 21st you can save with any of the following EdenFantasys Coupon Codes:
EU15: save 15% on any order
EU20: save 20% on orders of $50 or more
EU25: save 25% on orders of $100 or more
EU30: save 30% on order of $150 or more
I
had quite a bit saved up, so I qualified for the 30% off, and I actually saved over $200! I was able to get some really nice new bras (some actually under $10.00!) a ton of different lotions, some massage candles, and a ton of other goodies!
One thing I'm really looking forward to trying is the Venus Body Butter:
After reading a few reviews, I knew I had to get it. Apparently, it's a very thick and creamy moisturizer. I can't stand when I get moisturizers that are like soup textured. I ALWAYS have to moisturize my feet before I go to bed (Gah, OCD with non-lotioned feet on sheets!), and I can't count how many times I've gotten a "soupy" moisturizer, and gotten lotion all over my bed, because it would just drip every where; So I am really hopeful, and pretty confident that this is going to be a product that I use for quite some time if it's as thick as I'm hoping.
The Venus Body Butter comes in lots of great scents, but for the first try I had to go with something I know I'd love, pineapple (Come on, you can't go wrong with pineapple!) Next time I order, I'm planning on also trying the Milk and Mandarin Mango.
And if you've read my EdenFantays posts in the past, I'm sure you'll remember how many times I've professed our love for the massage candles.
and we're looking forward to trying 3 new scents, including: Island Passion, Tropical Nights, and Deep Ocean.
I'm so happy I saw the recent coupon codes! I hope you'll all take advantage of them while you can too :)! The current promotion I mentioned above ends on the 21st, but if you miss it, just make sure you subscribe to EdenFantasys Newsletter (or check there website often,) because they have some pretty nice coupons, and deals fairly often.
Disclosure: I am receiving a gift card to EdenFantasys in exchange for writing this post. All opinions expressed within this post are my own, and were not influenced in any way.