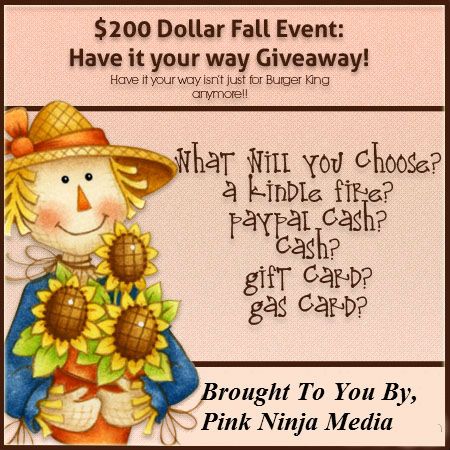 Welcome to The Awesome Have It Your Way Giveaway!
This event is brought to you by,
This event is so different! Normally there is a set prize, but with this event the winner can choose any prize they want. It could be a gift card, cash via Paypal, some awesome shoes.. Anything you want! Please note that if you get an item that needs to be shipped, the shipping needs to be included within the $200 limit. The winner of this will get like a mini shopping spree - I'm already jealous!
Because this is such a large event and there are tons of Bloggers who are a part of the event, you have the chance to get an additional 25 entries for completing different tasks on the entering form. The only thing you have to do is enter the mandatory entries, and after that you will unlock the additional entries, all of which are optional. The giveaway will run for an entire month, so you can do all of the entries at once, or you can come back anytime within the next month to finish. There are daily tasks though, so you might want to stop back and collect those too :) - Well I'll stop rambling, I know you're all wanting to get to the giveaway. So...
The Giveaway!
1 of you will receive anything they'd like valued up to $200 (Shipping must be included within the $200)
Entering to win is super easy (as always!) with the Rafflecopter form, directly below: a Rafflecopter giveaway (Good Luck!)
Disclaimer: Rats and More is not responsible for shipment of prize, Jenn's Blah Blah Blog will be responsible for shipping prize to winner. I did not accept any form of payment to help promote this giveaway.